A letter sent out to my clients recently, offering some perspective on the recent turbulence in financial markets. It's the time in the market that counts, not 'timing' the market. With a long term view, short-term gyrations are uncomfortable, but should not detract you from the plan. If you'd invested £1 in UK equities in 1925, it would be worth £9,100.00 today. That £1 investment will have been through world war 2, high inflation, dot com crash, 2008 financial crisis, referendums, plus many more events that cause a seismic shock to the markets.
—
It would be wrong to suggest that the news from the financial markets is not uncomfortable and concerning. The media has reported daily and we can all see what is happening and the uncertainty created.
At periods like this it is sometimes healthy to do what the standard investment disclaimer tells you never to do – and to look at past performance. History tells us of previous times of disruption and uncertainty on financial markets and, within our own experiences, the recession of 2008 is a relatively recent memory. On each occasion the financial market recovered. The chart below goes back to 1926 and provides helpful context. Financial markets rise and fall – it is the actions of investors and their investment professionals that determines the long-term impact on individual outcomes.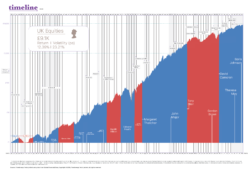 Already we have seen encouraging shifts from those countries which first experienced COVID19 and are starting to emerge from the peak spread of the virus. While we do not expect a smooth or fast return to a more normal market environment, we do expect that a return will happen.
It is the view of our investment experts that the current period of intense disruption will pass. Moreover, if the authorities succeed in containing the spread of the virus, and if increases in bankruptcies and unemployment are limited, our experts believe the stimulus being put in place by central banks and governments could fuel an exceptionally strong economic recovery in the second half of the year. In 6 months', time we will hopefully have entered a new phase of market stability with every possibility of new investment value and opportunity. Based on our experience it is best to stay in the market, and not incur the cost of missing on active periods of market recovery. This can have a negative effect your long-term returns.
Our Investment Approach
While we are in the current environment our principles of investment management hold firm.
Understand attitude to risk: As your adviser I have worked closely with you to make sure that your portfolio is closely matched to your own view of risk and comfort with loss. The current markets will be giving you pause for thought but I trust that we have matched your investment position to your individual situation. If you are finding that your attitude to risk is changing let's talk and make the appropriate changes at the right time.
Invest for the long term: Our position, that value is driven by time in the market rather than a moment in time, is unchanging. Now is admittedly, a moment in time of extreme disruption but we hold our position. Economies and financial markets will steady and recover, and a longer-term approach to investing delivers better returns over time
Diversification is vital: Our investment principles are underpinned by a structured and disciplined approach to diversification. Your Omnis portfolio is designed to ensure diversification of investment, asset class, fund manager and fund without any effort on your behalf.
A rigorous and focused Governance process:  We have built a robust governance process. Every aspect of the current market turbulence is being monitored with experience and care. Our investment team only work for the clients of advisers within the Openwork network. They are only managing your money and the money of other people like you. Their sole priority is your financial well-being in every aspect of their work.
Our approach to investing is designed to insulate your money from the full turbulence of today's markets. To ensures that you are well placed to be protected from impact during market turbulence and poised to take advantage of market opportunity when markets recover.
The portfolios that we recommend are matched to your appetite for risk and to your desired outcomes over the long term. Early indications even at this point show that this approach is working. Omnis investments, who manage some of our core portfolios, are providing performance updates on the Omnis website. If you would like to talk about your portfolios specifically, I am here to talk with you at any time.
Changes to how we work
It is our responsibility to support the continuation of good health across our community, while providing you with the support you need. So, we have taken the following steps within our practice to preserve our availability and service to you (to adjust as needed):
Face to face advice is a cornerstone of our practice but your health is more important. We are now working remotely and practicing reduced social contact across the team.
To stay in touch with you we have a range of technologies available – from the simple telephone call to online video chats using any one of (skype/ teams/ facetime) we can connect with you without requiring travel or close contact.
Some of our processes may be a little slower at times due to remote working or absence within the team, but we have confidence that you can still expect the same levels of care and diligence in every aspect of our work for you.
Importantly our firm is part of Openwork which is a partnership that has collectively provided financial advice for over 45 years. Together we have seen many changes in financial markets and provided support and guidance to two generations of clients, in good times and in bad.  Operationally this gives us strength and there are contingency plans operating across both our office here and everyone in Openwork to maintain that strength on your behalf.
The challenges we currently face will pass, and our main hope is that our team here, our clients and our communities emerge in health and strength.
Your sincerely
Adam Cockerham FPFS
Chartered Financial Planner
The value of investments and any income from them can fall as well as rise and you may not get back the original amount invested. 
Past performance is not a reliable indicator of future performance and should not be relied upon.